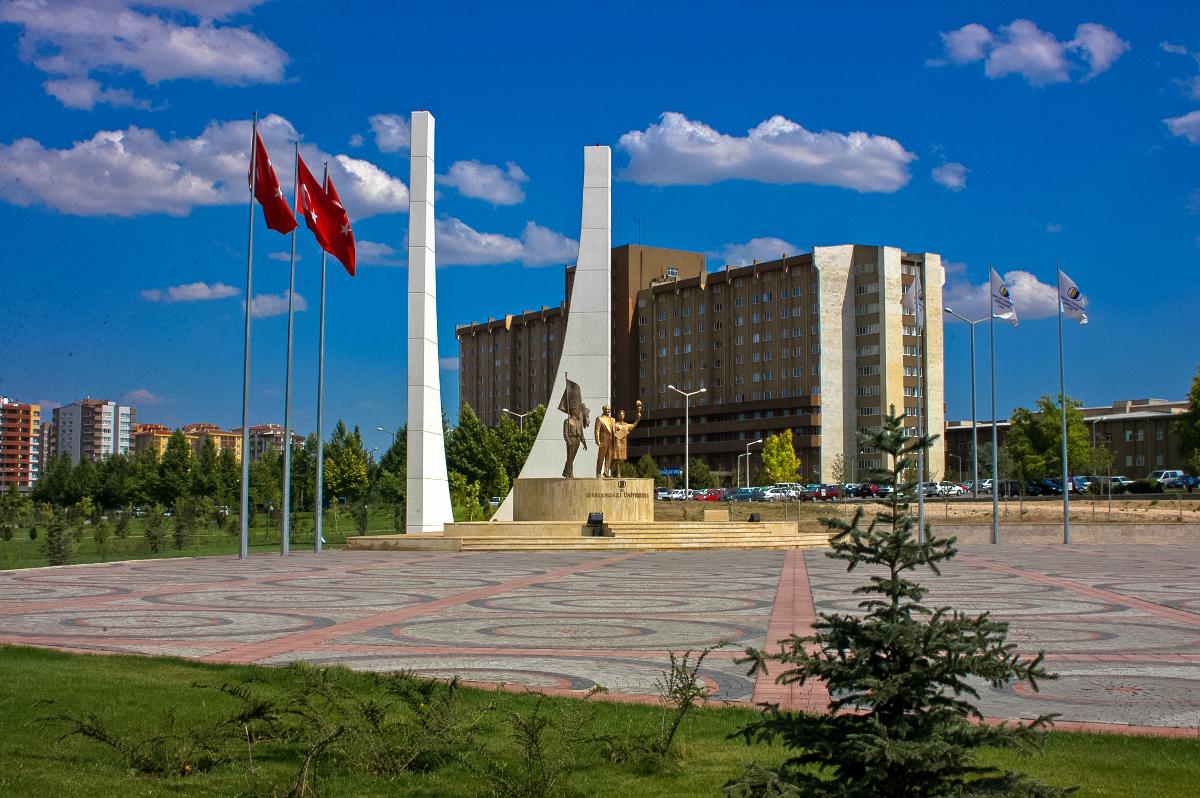 About Hospital
The foundation of our university hospital was laid in 1976 by Prime Minister Süleyman Demirel.

After the transfer of the 300-bed Chest Diseases Hospital of the Ministry of Health to Eskişehir to our university, the establishment of the hospital was completed and the Medical Faculty Hospital of Anadolu University in Eskişehir started operating in July 1977, and the patient was accepted and routine health services were started.

In September-October 1991, all other units except a few departments were moved to Meşelik Campus in the old hospital building. At the end of 1993, the hospital, which now has 1010 beds, was completed and the moving operations were completed. Eskişehir Osmangazi University was established with the Decree Law No. 496 published in the Official Gazette No. 21672 on August 18, 1993, and the hospital was separated from Anadolu University and connected to Eskişehir Osmangazi University.

Eskişehir Osmangazi University, Health, Practice and Research Hospital continues to offer all the services required by the University Hospital in the region where Bilecik, Afyon and Kütahya are located next to the center of Eskişehir.
Our Service Features
In our 1st Hospital, transplantation patients were discharged with health by carrying out 13 kidney and 9 liver transplants in the General Surgery Department Translantation Unit. In the Transplantation Unit, where experienced personnel serve in single isolated rooms, operations are carried out by a team of 34 specialist transplants.
Interventional Radiology Unit is an important application area for many patients to solve important problems with simple intervention without requiring large surgical procedures. The newly configured hardware devices Interventional Radiology Unit, outpatient services, hospitalization unit, standing in Turkey with its own service and even among the first in Europe.
3. With the new angio device, the number of devices in the hospital has increased to 3 and the Angio Unit has become the largest and most equipped angio unit in Eskişehir and the region. More patients are served with interventional procedures performed simultaneously in 3 angio salons. With the new angio device, operations such as non-surgical heart valve replacement, non-surgical closure of congenital heart holes, opening of cardiovascular obstruction with balloons and stents are performed faster and safer.
4. Neurology Stroke Unit serves patients in Eskişehir and its region. Eskisehir and regions of the brain which is the only official protocol Crisis in Turkey Neurology angiography device under protocol is used.
5. As the fluttering foci can be treated more easily with colored mapping systems, "Mapping Electrophysiology Device", which is the only device in our country with the latest technology, has been put into service as a requirement of technological developments.
As one of the pioneering and reference hospitals in our region with the purchase of a neuronavigation device for the 6th Division of Neurosurgery, we serve all patients in Eskişehir and neighboring provinces. Thanks to this system, it is ensured that surgeries such as tumors, abscesses, hemorrhages and instrumentation in the spine can be performed more safely.
7.Prof. Dr. Servet Bilir Oncology Center Chemotherapy Unit is the biggest chemotherapy application and drug preparation center in Central Anatolia. The Hospital Chemotherapy Unit serves in an area of ​​620 m2 with 35 seats and a specially prepared bed chemotherapy room.
8.Lineer Accelerator Varian Trilogy Device provides versatile and reliable, sensitive treatment. Thanks to the robotic imaging system, the device provides verification of the areas to be treated and advanced tumor tracking.
9. In our newborn unit, which was opened for the first time in our region, preterm delivery and low-weight cases are offered treatment.
10. All standard surgical procedures performed in our country can be applied in our surgery clinics.
Endoscopic interventions can be done in our internal and surgical clinics. (Arthroscopy, Laparoscopy, Endoscopy)
Microsurgical interventions and reimplantation are performed in the 12th Plastic Surgery clinic.
13.Biochemistry, hematology and microbiology laboratories have been able to perform extensive and detailed examinations, but they have had the opportunity to give fast results with the Information System.
In our Hospital, we provide services in the Intensive Care Units opened for all units together with the Burn Unit.
15. In the angiography laboratory, Electro Physiology (EFS) Intravascular ultrasonography (IVUS) services are offered, which can only be performed in a few centers in our country. Also stent balloon, valvuloplasty, etc. It performs an important service with invasive initiatives such as.
The Department of Emergency Medicine, which provides 16.24 hours of service, is in a position to serve all cases in our region. In addition, the Pediatric Emergency Service Unit, which is located in the emergency department, is the only unit that offers services in this area.
17. With magnetic resonance (MR) and Computed Tomography (CT), Nuclear Medicine imaging systems, services continue to be provided by eliminating a significant deficiency.
As one of the first unit established in 1977 18.Türkiye Neonatal Intensive Care Unit has 40 years of history. The unit, which plays a role in bringing many newborns to life, has reached the highest level that Neonatal Intensive Care Units should have. The unit accepts patients from all over the country for special cases.
19. Radiotherapy Center was opened in June 2004 and offered to the people of the region.
20. The Medical Oncology Department is the only one in our region to provide services to cancer cases.
21. Our Reproductive Health Center was launched. Since this center is not located in any hospital in our region, the referral of our patients to centers outside our region was prevented and the difficulties they faced were largely eliminated. The unit is one of Turkey's most modern centers.
Scientific studies are carried out for genetic research in the 22nd Genetic Diseases Prenatal Diagnosis and Biotechnology Application Research Center (GENTAM).
In the 23-Check-up center, risk factors and existing ailments of healthy individuals over the age of 18 are investigated, recommendations are made by applying the necessary treatments to patients, and they are directed to the relevant departments by providing necessary consultancy services.
24. Stone Crushing, Urodynamics Unit and Check-Up Center started its activities in 1999 and was put into service of the people of the region.
At the 25th Medical and Surgical Experimental Research Center (TICAM), academic studies are carried out on experimental animals.
26. Gynecological Oncology Group has been established and carries out the treatment of cancers related to the Department of Obstetrics and Gynecology. Gynecological Oncology Group; It is a group formed by faculty members of the Department of Obstetrics and Gynecology, Department of Pathology, Department of Nuclear Medicine, Department of Radiation Oncology, Department of Radiology, Department of Gynecology Oncology, and Department of Internal Medicine.
Hospital Information System (HİS), Laboratory Information System (LİS) computer automation project, which will work integrated between all Clinic, Polyclinic, Laboratories, Emergency Service and Administrative-Financial Service Units, which are the main target of our hospital, has been put into operation in 280 points. When this project is completed, communication between all these units will be carried out via a computer network, and significant contributions will be made in the quality of the services provided to patients and their relatives. In this context, it has been an exemplary model for our other hospitals as it is the first project realized in public hospitals in our country. When the project is completed, 350 points will be reached.
28. "Marble Hall Art Gallery" was specially furnished and opened for service in 1997 in order to meet the waiting, visiting and various needs of our patients and their relatives and visitors. In addition, there are exhibitions both inside and outside the university at the Marble Hall Art Gallery.
29. On 22.09.1999, "Patient Appointment System" was introduced in order to provide planned service to our patients who applied to our hospital for examination and examination.
Digital File Archive System has been established at 30.ESOGÜ Hospital and all file data of the patients are transferred to electronic environment. With this system, the files of patients who make an outpatient appointment at ESOGÜ Hospital are extracted one day in advance and scanned digitally and transferred to the system.
31. Periodic surveys are conducted to evaluate the services provided in our hospital by patients and their relatives, and the results are evaluated by our senior management and necessary arrangements are made.
32. The Patient Assistance Team carries out the function of consulting the patients and their relatives and mobilizing our patients who need them to the relevant service units; It provides services in the Emergency Room, Polyclinic, Operating Room Entrance, Marble Hall and Chief Physician areas. The purpose of the establishment of these units is to help patients and their relatives who benefit from our hospital, which provides services on an area of ​​110.000 m2 with 1010 beds, to complete their work related to our hospital with minimum effort, time and effort. This unit has made significant contributions to our service quality by recording significant distances since its establishment.